SpaceSaver Division- Special Purpose Seating
Explore the Unique Seating for mobility access, minibus, motorhome or special purpose vehicles options - Click on your preferred product page below.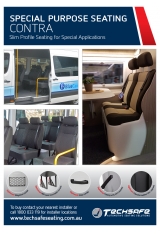 Contra
Extra seating for your minibus, motorhome or special purpose vehicle
Click to view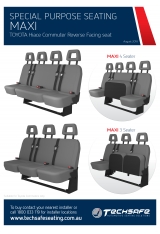 Maxi
Reverse facing seat to maximise Toyota Commuter seating capacity
Click to view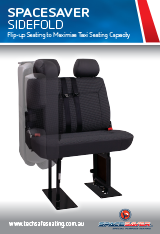 SideFold
Double and single seats that compactly side fold against the wall
Click to view
Techsafe Automotive Seating Solutions is a preferred provider of car, van, taxi, ambulance, minibus and motorhome seats, because we provide unparalleled safety, functionality and style along with exceptional customer service. Servicing Australia as well as delivering specific seating systems to United Kingdom, New Zealand, Asia and South Africa.
The SpaceSaver seating options include slimline passenger seats for small minibuses, specialist flip-up, removable or side-folding options for wheel chair access vehicles and seats tested for rearward facing positioning in ambulances and taxis. We offer specialised motorhome seats for sale through dedicated motorhome builders. Each design considers the unique constrictions and requirements of the different vehicle, allowing for maximum efficiency and space capacity with quick, safe and intuitive conversion.?
Motorhome Seats Australia - SpaceSaver Division
If you've been trying to find a safe way to accommodate more people in your vehicle, but don't want to sacrifice load space when seats are not in use, you've come to the right place. Our range includes several different styles and sizes, folding up and becoming compact in a number of ways to save you room.
Custom addional seating solutions to suit project specifications
We work with OEM "Original Equipment Manufacturer" clients to offer a complete seating package tailored to suit the exact transportation requirements of special needs passengers or applications. This includes development of custom van seats for Light Commercial Vehicles and other bespoke vehicle seating solutions, where commercial volume allows. By taking a close look at the dimensions and specifications of each application, and listening carefully to clients? practical requirements and goals, we can create solutions that meet your needs.
View our range of seats for sale via the categories below and get in touch with your nearest installer today to discuss your options.
---